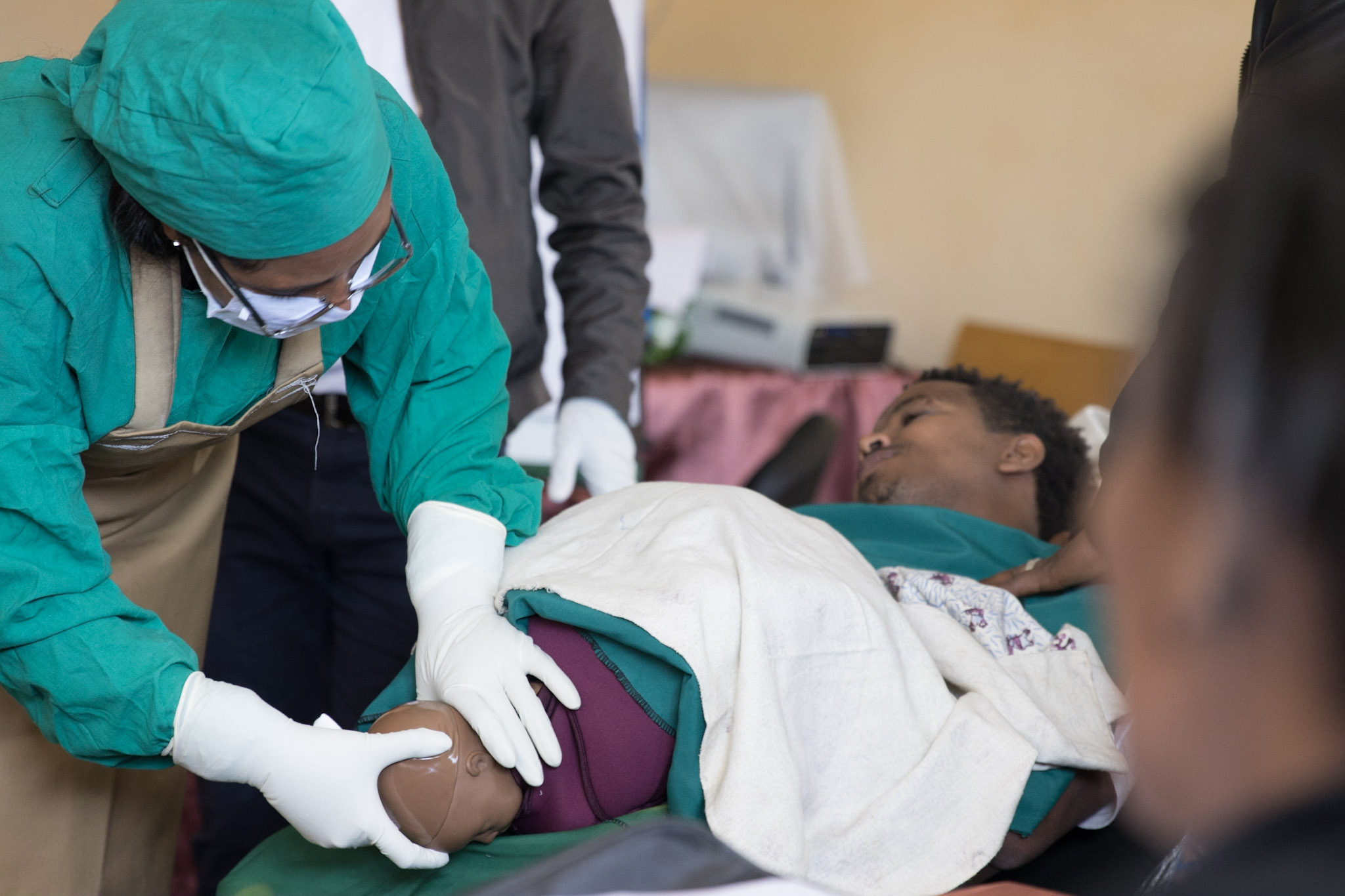 Care of mother and baby
Enable learners to understand the mechanics of birth, practice skills and simulate different birth scenarios and respectful care.
Confident birth attendants
Improve confidence during labor and delivery. As a wearable simulator, MamaBirthie allows participants to be actively engaged in a realistic training. It can also be used as a tabletop skills-trainer.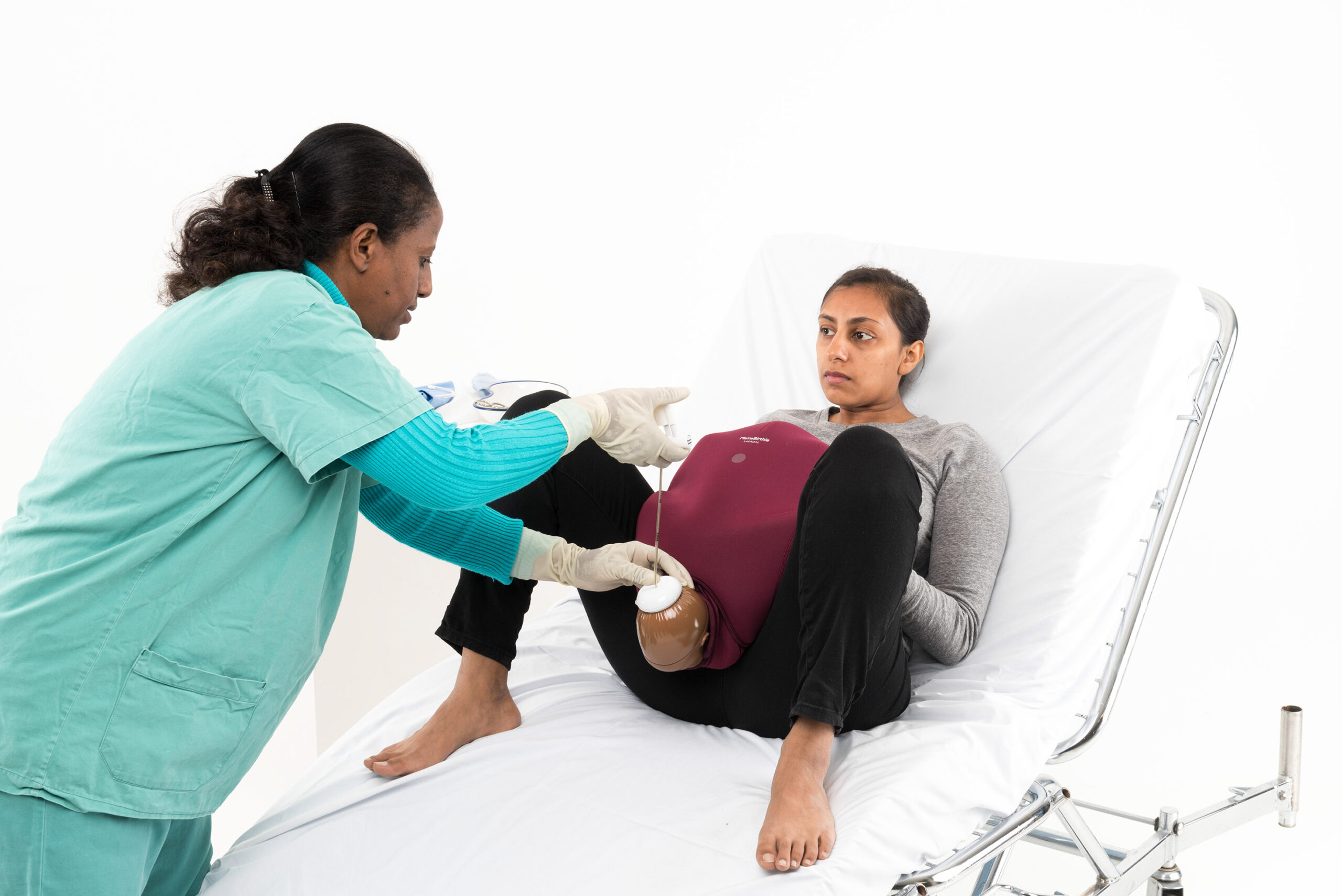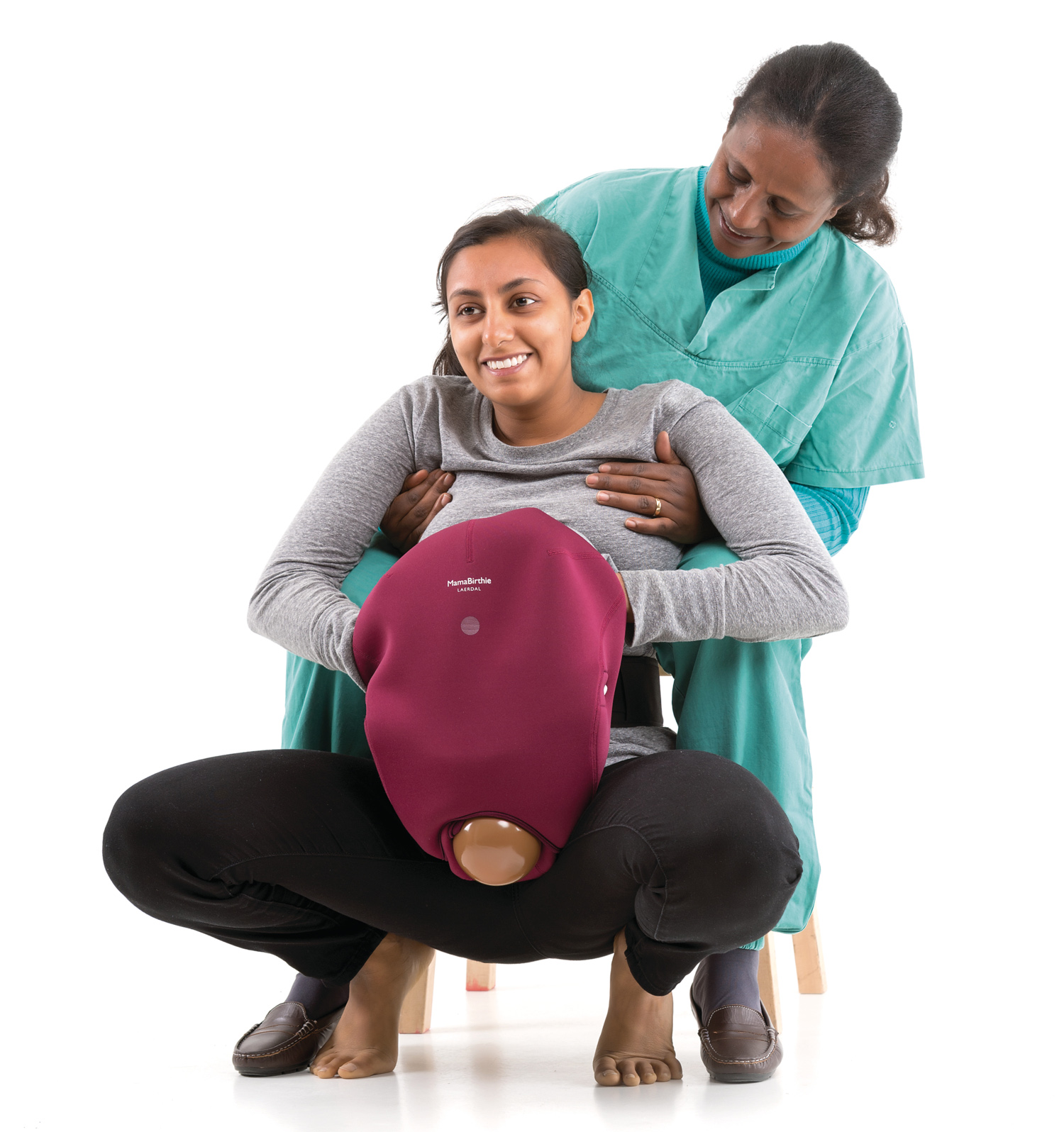 Keeping the normal, normal
Allow healthcare providers to practice and improve decision making during normal birth and manage complicated birth scenarios including vacuum-assisted delivery, breech presentation, and shoulder dystocia in addition to normal labor and delivery.
Including BabyBirthie
Simulate birth scenarios with this realistic articulated newborn manikin with fontanels, anatomical landmarks, a soft head, and a bony body structure. Can be birthed through MamaBirthie in different positions, including breech.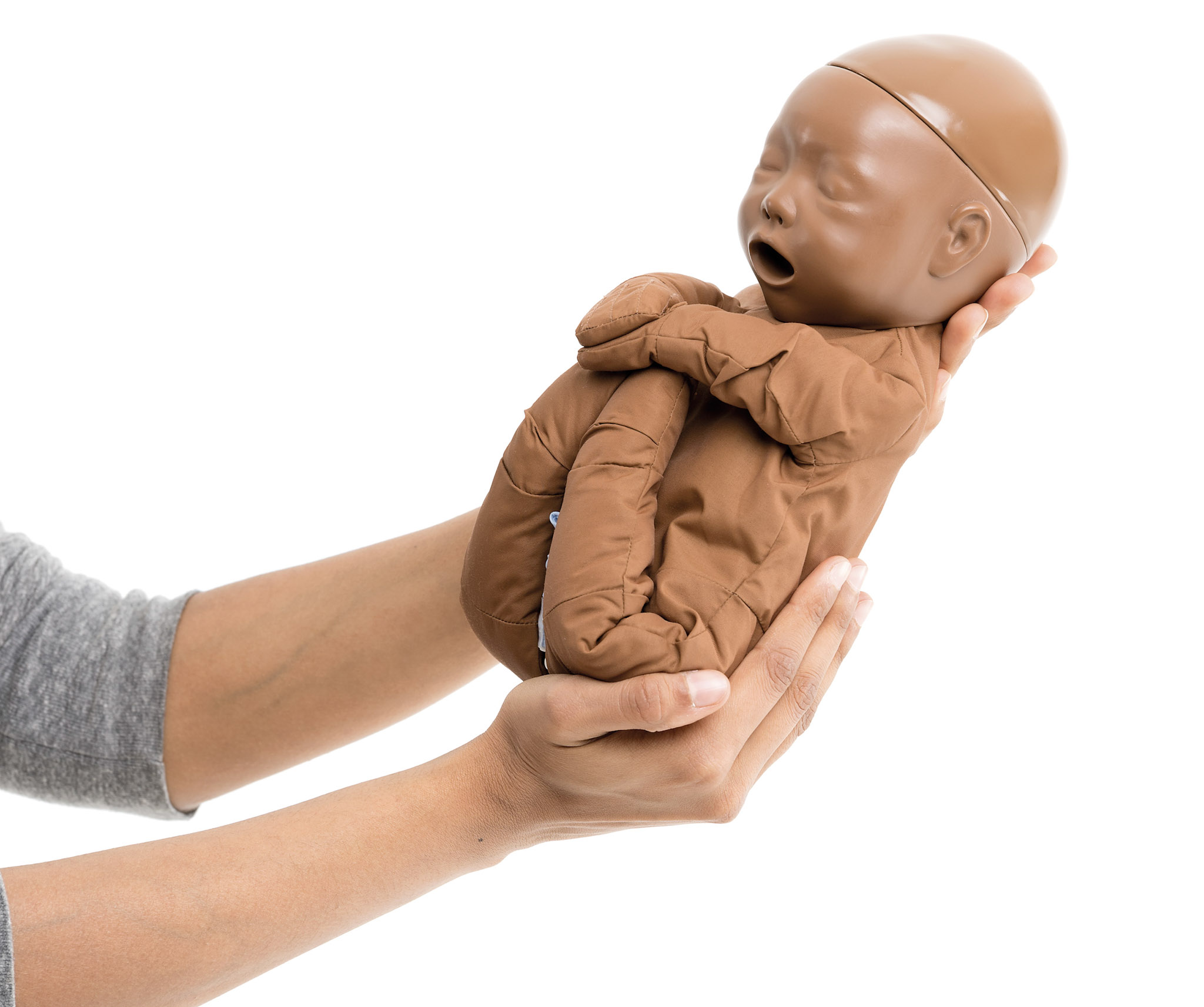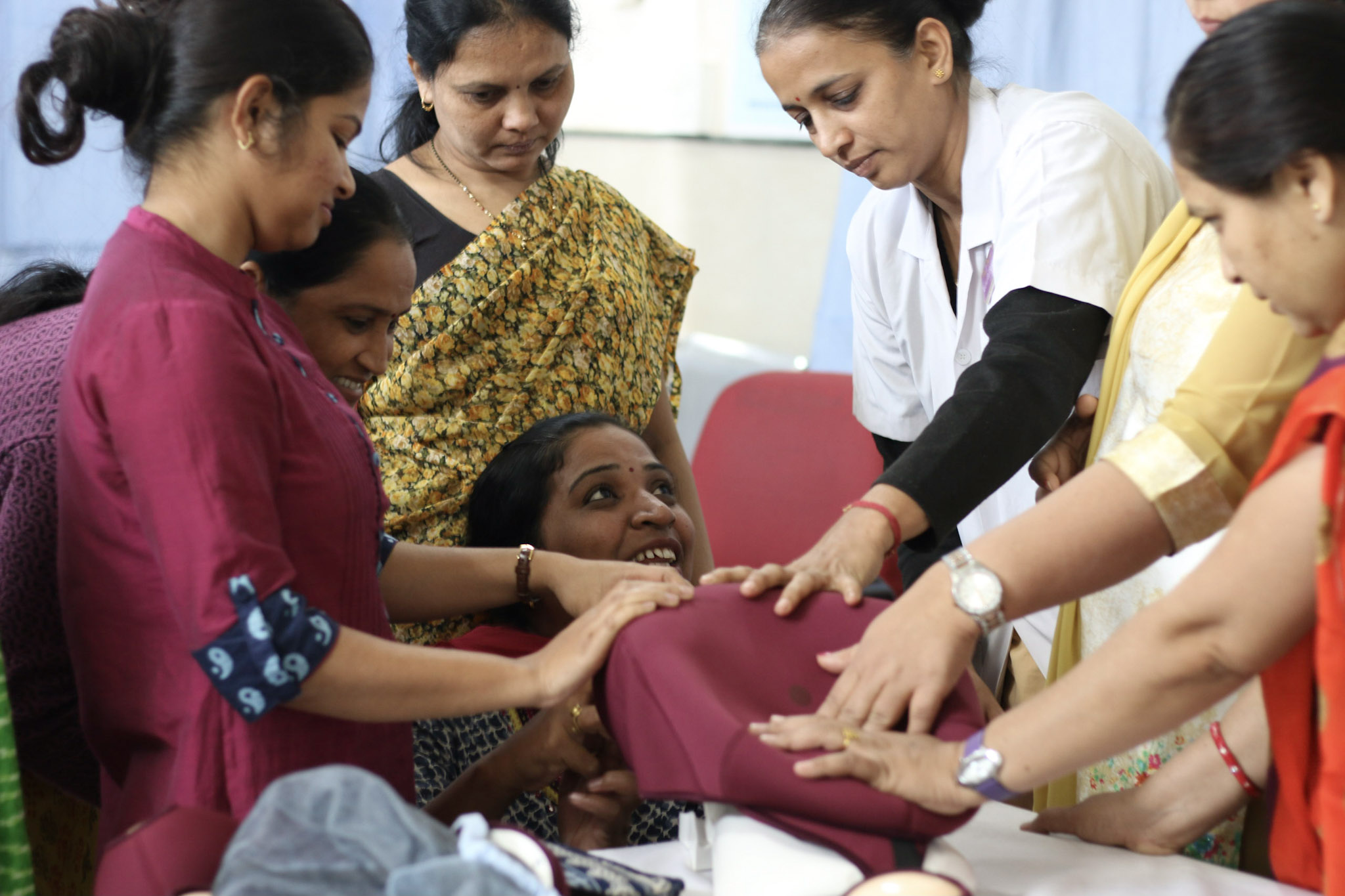 Ready for thousands of training sessions
Conduct low-dose high-frequency training for many. MamaBirthie is a durable and affordable, simulator that can be used for more than 3,000 birth simulations for continual training, skill improvement, and maintenance of competence.
1. Carrying bag
For MamaBirthie, BabyBirthie and all accessories.
2. MamaBirthie
Use MamaBirthie in simulation training, or as a table-top skills trainer.
3. Accessories
Everything you need for realistic training.
4. Cervix inserts
Allow for skills training on vaginal examination with cervix insert of
4, 6 and 8 cm dilatation.
5. Umbillical cord
Placenta with umbilical cord and membranes.
Anatomically correct landmarks. Realistic fetal head, birth canal, and pelvic floor facilitates natural rotation of the head as it descends.
Includes cervix inserts of 4, 6, and 8cm dilatation and effacement for vaginal examination.
Accommodates various birthing positions.
Can be used worn by a standard patient or as a tabletop skills-trainer.
Highly durable and consumable-free.
Does not require lubricants to simulate birth.
Includes BabyBirthie — a realistic articulated newborn manikin with a soft head, fontanels and anatomical the important landmarks to identify breech and shoulder presentations.
Product size (L x W x H) [cm]: 0,480×0,330×0,260
Product weight (kg): 5
Operating temperature [°C]: +15 – +40
Storage temperature [°C]: 20º Relative Humidity: 5-95%
Materials: Neoprene, POM, PVC, PP, Silicone, CPVC, Polyester, Nylon, Lycra
Latex free
MamaBirthie Birthing Simulator and Skills Trainer
Placenta with umbilical cord and membranes
2 Ties for umbilical cord
2 pairs of gloves
Fetoscope
Urine catheter
20 ml syringe
Fetal skull with fontanelles
Cervix Cups (4, 6 & 8 cm dilations)
BabyBirthie Newborn Simulator (dark or light complexion)
BabyBirthie hat
Two sheets to simulate towels
Table clamp
Carrying bag for MamaBirthie
Directions for use
USB with training and use videos
Additional information
| | |
| --- | --- |
| Skin color | Light version, Dark version |