Train for cesarean section
Demonstrate and practice for:
C-sections including surgical technique.
Abdominal delivery including breech and deeply engaged head.
Severe PPH management through B-Lynch suture, and suturing of the uterus and abdominal tissue layers.
You can also train for abdominal and vaginal examinations, normal birth, vacuum assisted delivery, shoulder dystocia and breech birth.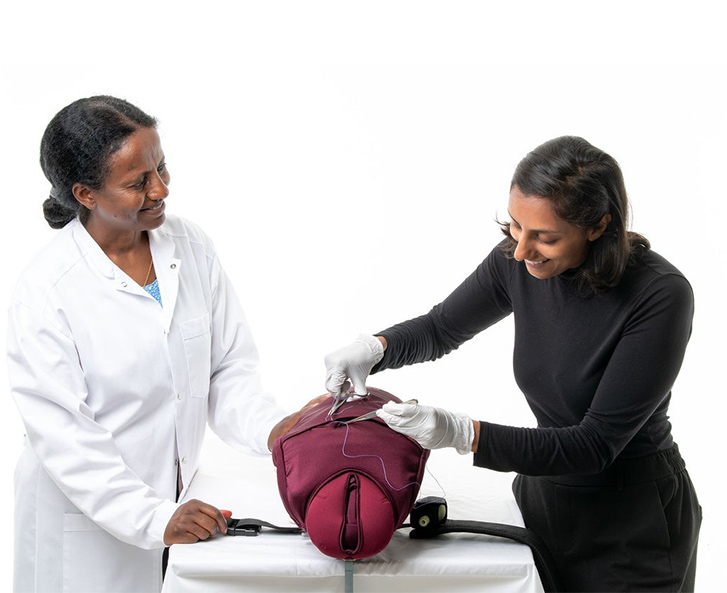 Skills training for c-section techniques
Use MamaBirthie CS to demonstrate and practice evidence-based surgical techniques during cesarean section. Techniques includes delivery of the baby and placenta as well as suturing of the uterus and abdominal layers.
Reusable and durable
Set-up and training with MamaBirthie CS is as easy as it gets, with no need for additional consumables such as lubricants or replacements. It is made with durable textile materials, allowing the simulator to be reused for 1500 delivery cycles and 500 cesarean deliveries with suture.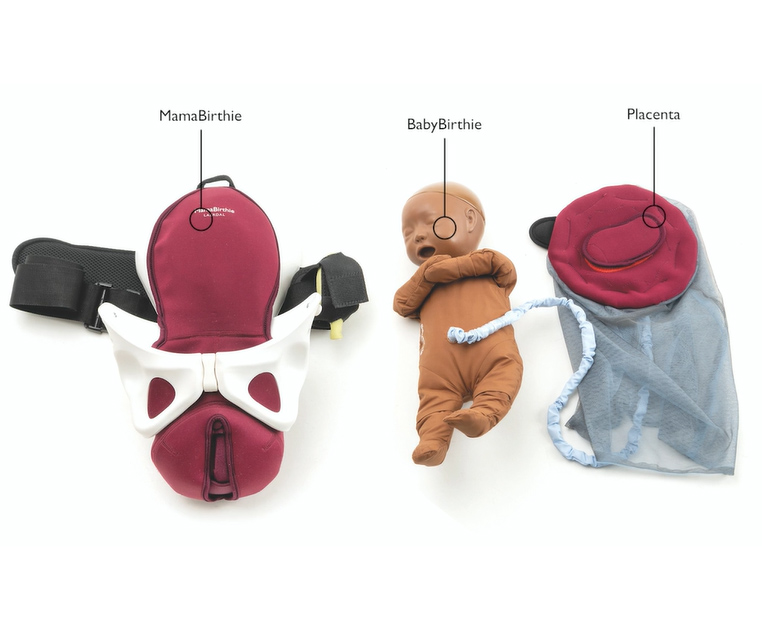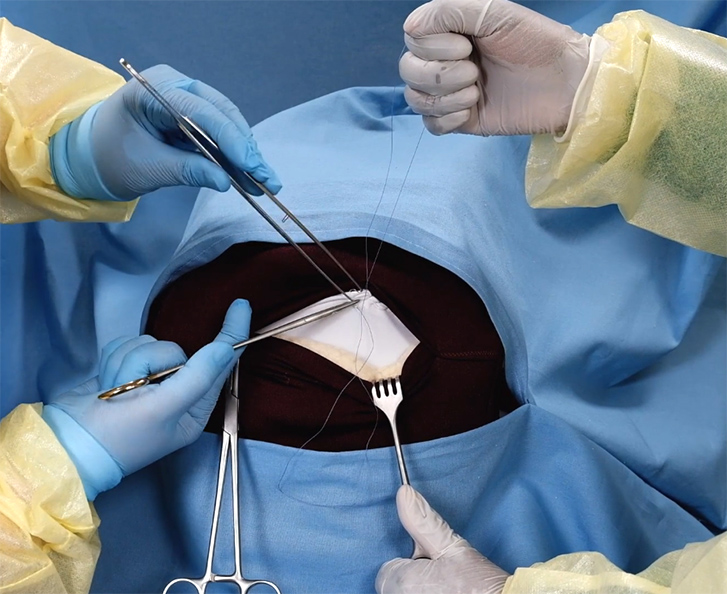 Quality, women-centered care
Train for the entire continuum of care, from labor management and decision making, to managing complicated births and necessary cesarean sections. All with respectful care for mother and baby.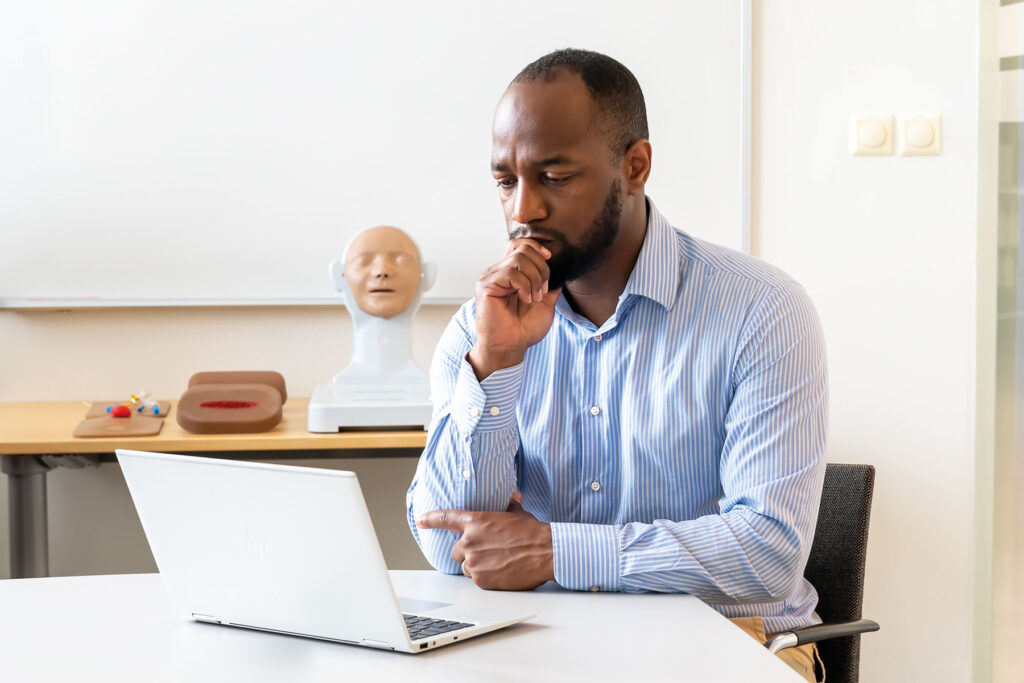 Download Free Faculty Guide
Are you considering implementing simulation-based training using the MamaBirthie CS into your existing training program or curriculum?
Download this free faculty guide with exercises and simulation scenarios around primary caesarean section and common complications.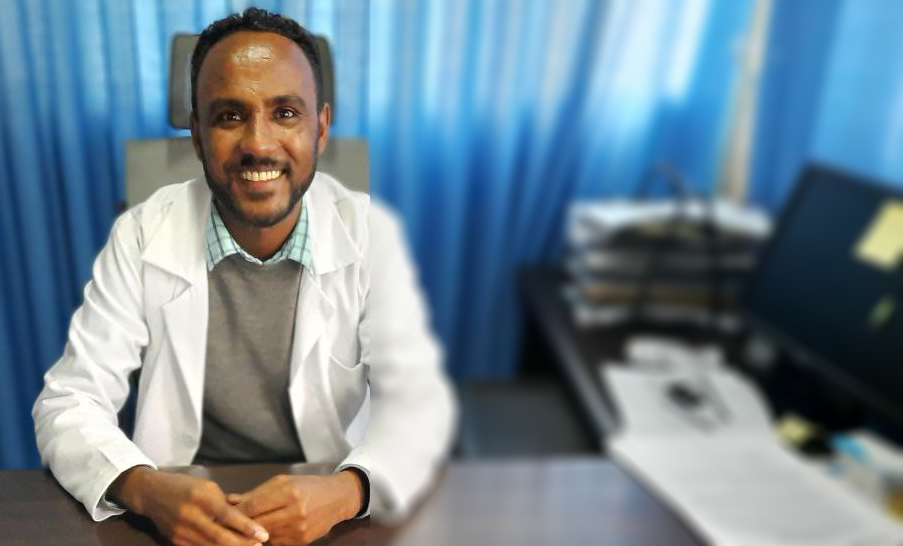 "I found this simulator user-friendly and easy to implement in all settings. I believe if we did a comparison between those who trained with the simulator and those who did not, I am confident we would see a major difference in competence."
Melese Takele
Emergency Surgical Officer at FMHC
Former President of Professional Association for Emergency Surgical Officers of Ethiopia
Highly durable – can facilitate 1500 delivery cycles and 500 cycles of cesarean deliveries with suture without the use of lubricant or consumables
Supports simulation of different delivery techniques like cephalic delivery, breech maneuvers and reverse breech delivery for deep impacted head
Supports training of B-lynch suture for PPH management
Length: 46.5 cm / 18.3 in
Width: 25 cm / 9.8 in
Height: 23 cm / 9.1 in
Weight: 1.55 kg / 3.4 lbs
Latex free
Abdomen fabric skin (1)
BabyBirthie (1)
Placenta with membrane (1)
Umbilical cord (1)
Cotton jersey baby cap (1)
White towel (1)
Blue towel (1)
Fontanelle cap (1)
Tabletop dock & clamp (1)
Cervix caps (in dark or light skin tone) (3)
Urine catheter (1)
Nitrile gloves (1)
20ml syringe (1)
Fetal stethoscope (1)
Pelvis assembly & carry bag (1)
C-section Module and Parts (1)
Uterus Attachment Ring (1)
C-section carry bag (1)
C-section abdominal Skin (1)
C-section Uterus (1)